Hobies Sports Store
Establishment at 36A Hansen Street, Corryong, VIC 3707, Australia. Here you will find detailed information about Hobies Sports Store: address, phone, fax, opening hours, customer reviews, photos, directions and more.
Photos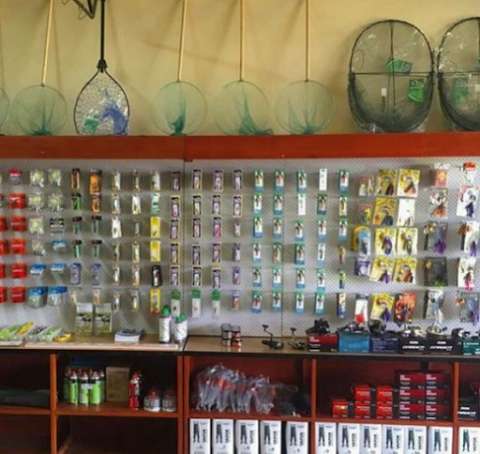 Reviews of Hobies Sports Store
Andrew Irvine Added October 24, 2022

★ ★ ★ ★ ★

Fantastic service. Great local knowledge and friendly staff.

William Land Added October 22, 2022

★ ★ ★ ★ ★

I normally don't write reviews but in this case I'll make an exception.

While exploring the magnificent Highcountry on a recent motorcycle trip, I took the time to wander into
Hobies Sports Store in Corryong Victoria. The store may have a new owner "Mick" but it hasn't lost it's unique appeal. I've visited this store many times over the past twenty and it has had another owner since old Hobie himself decided to ride on ahead…
But if your up that way please take the time to drop in and say G'day to Mike, and check out his store.
It's filled with lots of eclectic sporting goods with an extensive fishing tackle range, the bonus kicker is his prices are spot on!

Kind Regards, Bill

Rob Hartnett Added October 20, 2022

★ ★ ★ ★ ★

Friendly service and fantastic local knowledge and advice.

Liz O'Dea Added October 07, 2022

★ ★ ★ ★ ★

Hobies is a great store that covers a wide range of sports essentials. New owner Mick went the extra mile to source a mtb part quickly and managed to have it delivered in less than 24 hours. He was generous with advice and his prices are good. The new cassette is working fine too btw Mick! Thanks for the great service

Chris Westwood7 Added October 02, 2022

★ ★ ★ ★ ★

I'm a regular visitor to Corryong and it's great to see the sport store open again. Mick and Kerrie are building a great business that has loads to offer for all your outdoor adventures including cycling, fishing, hunting and camping. They all do printing on clothes and embroidery, which is a great asset for the region.
Questions & Answers
1. What is the phone number for Hobies Sports Store
The phone number for Hobies Sports Store is +61 2 6076 1121.
2. Where is Hobies Sports Store located?
Hobies Sports Store is located at 36A Hansen Street Corryong, VIC 3707.
3. Is there a primary contact for Hobies Sports Store
You can contact Hobies Sports Store by phone using number +61 2 6076 1121.
4. What is the web address (URL) for Hobies Sports Store
The website for Hobies Sports Store is .
Share this page
Additional actions
Today's weather in Corryong VIC
13:00
27 ℃ 1014 hPa 48 % 1 m/s 16:00
23 ℃ 1013 hPa 78 % 1 m/s 19:00
21 ℃ 1010 hPa 95 % 1 m/s 22:00
20 ℃ 1009 hPa 93 % 1 m/s
Tomorrow's weather in Corryong VIC
01:00
19 ℃ 1010 hPa 92 % 2 m/s 04:00
20 ℃ 1008 hPa 83 % 1 m/s 07:00
25 ℃ 1010 hPa 60 % 1 m/s 10:00
32 ℃ 1009 hPa 33 % 2 m/s 13:00
35 ℃ 1008 hPa 25 % 3 m/s 16:00
35 ℃ 1007 hPa 26 % 3 m/s 19:00
26 ℃ 1011 hPa 53 % 1 m/s 22:00
20 ℃ 1015 hPa 78 % 2 m/s